Dublin, Ireland
Dublin proved to be a city of character, wit, and overall goooood vibes. The best part? It's an easy international flight (NYC>Dublin) that lets you skip the 'let me get away from it all' conventional Miami trip & replace it with the 'oh so lovely' Dublin. People are kind & curious - & although tourism is booming at the moment, you feel so much Irish spirit and heritage everywhere you go. I couldn't help but compare it to NYC - each neighborhood possessing its own atmosphere and aura. Ciders & beers, oh my! Food is delish (scroll down for deets), and even Monday's are popping in Temple Bar. A day trip to the beautiful Cliffs of Moher? It's just a 3-hour ride away. I can see myself living in Dublin, but for now I'll just give you some inspo to check it out for yourself. So — when's your next free weekend?
...4 days in Dublin...
Itinerary
Day 1: Explore Dublin
Day 2: The Dark Hedges, Giant's Causeway
Day 3: Cliffs of Moher
Day 4: Explore Dublin
Day 1
Walk around Temple Bar
To clear up the confusion. 'Temple Bar' is an area in the city center but there is the famous 'Temple Bar Pub' which you HAVE TO go to because you wouldn't come to NYC without seeing the Empire State Building. It's an exciting place to walk around, to say the least. My favorite part? LIVE MUSIC everywhere you go!
"100 seconds. Win 100 euros cash" - if you think you can hang on to a turning bar for a 100 seconds, you'll win 100 euros. Just one of the many 'attractions' causing crowds and roars in Temple Bar. I dare you to give it a shot.
Eat wings at 'Elephant & Castle'
If you're anything like me, you crave random things at the strangest of times. Luckily, wings at 'Elephant & Castle' in the middle of Temple Bar were really really good!
Anyone notice that the trendiest restaurants are named by sticking two random nouns together? (Elephant & Castle, Woof + Spoon) - leave a comment with the strangest restaurant name you've ever come across!
Find a favorite local cafe (& have some kick-ass breakfast)
Starting the day off with yum tea/coffee is essential. Luckily, 'Groad Road' cafe was perfect and it made me feel like a true local. Gluten free friendly + the sweetest service.
Day 2
If you're able to rent a car you might as well drive up to the beautiful sights of Northern, Ireland. It's a three-hour drive from the center of Dublin. Check the weather before you go!
Belfast is the capital of Northern Ireland. The nation is part of the United Kingdom, along with England, Scotland and Wales.
The Dark Hedges
It's a very beautiful, picturesque tunnel-like avenue of trees that unfortunately, is home to crowds - on top of crowds. (Game of Thrones fans - here's another one for you). If you're looking for that perfect shot, you have no choice but to get up at the crack of dawn.
Giant's Causeway
I had very little expectations for this place but oh boy, was it stunning! Pictures speak more than words. Make sure you climb up to the very top.
Day 3
First things first: The Cliffs of Moher are located at the southwestern edge of the Burren region in County Clare, Ireland. These bad boys rise 390 feet above the Atlantic Ocean & are extremely impressive. Ireland's most popular natural tourist attraction - it's no wonder. They're super beautiful (shrugs).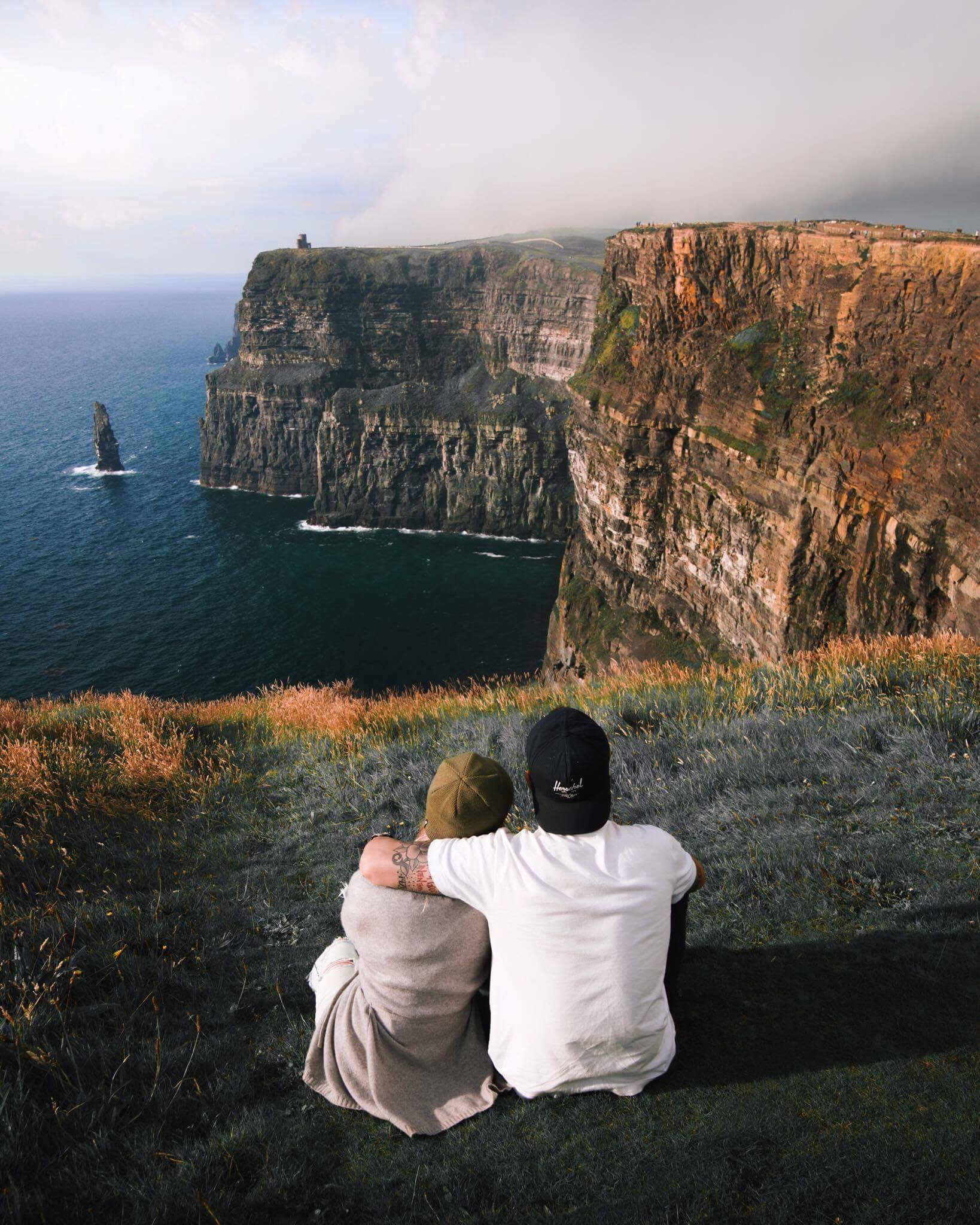 Day 4
Eat at the 'Vintage Kitchen'
What a culinary experience! I was able to catch a reservation on a Monday night about two weeks before my trip. First off, one server (I wish I caught his name) is serving 10 tables all who received 8:30 reservations & you don't complain about it one bit. There's humor, joy, interaction - but mostly, incredible food.
Prepare for a very reasonably priced and profoundly filling 3-course meal. Oh, and please... order the the vintage kitchen Cajun seafood chowder as your starter. The broth was ridiculously rich with flavor. Here is the menu if you're interested.
Check out the statue of Oscar Wilde
If you're a fan, (my cat's name is Wilde) you might as well stop by at this little spot located in Merrion Square. I thought it was super cute and talk about historic. The house where he spent most of his life is right around the corner. Don't make the mistake of trying to go inside - its now closed to the public.
3. Check out Trinity College & The Book of Kells
To be honest, it's not all too impressive if you're looking for something out of the ordinary. It's a very pretty college campus that holds a library of artifacts and books that you can not touch! (ugh) 18 or so euro to get in.
The Book of Kells is an illuminated manuscript Gospel book in Latin, containing the four Gospels of the New Testament together with various prefatory texts and tables.
In case you were wondering:
Commuting in Dublin is extremely easy. Aside of there being taxis everywhere, buses also provide for a fun experience. Make sure you sit on the top floor!
Any Birkenstock fanatics? Visit the Birkenstock store in the city center and score a pair for as low as 55 EUR.
If you're planning to rent a car, don't forget that you're driving on the left side of the road. Talk about a mind f**.
Beer fan? Visit the Guinness Storehouse brewery. Sorry, I personally didn't get a chance this time.
Thanks for tuning in! Feel free to leave a comment with any questions you may have.